Merchant Capture
Let's get to work.
Merchant Capture is like bringing the bank's teller window to your business!  Manage your business more cost effective by making your deposits directly from the convenience of your own office. This service results in less work, increased accuracy, reduced processing costs and increased profits for your business.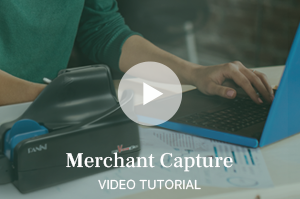 What is it?
Merchant Capture allows your business to deposit checks into your Peoples Exchange Bank account electronically from your location anytime of day! Merchant Capture is comprised of an image capture device and secure Internet access that allows you to image capture payments at your business location and electronically deliver the images to the bank for processing—thus eliminating the need to physically come to the bank to make deposits. Merchant Capture not only increases efficiency and creates faster cash flow, it lets you manage your deposit activity in real time across multiple store or office locations. Merchant Capture is a quick, easy way to make your deposits.
Benefits of Merchant Capture:
With Merchant Capture our customers enjoy the following benefits:
Convenience and safety—reduced trips (and travel expense) to the bank!




Consolidate your banking relationship—multiple locations can make deposits to one account no matter where they are located




Local image archive of deposited checks allows for quick look-up of deposited items




Saves time preparing deposits




All paper items, including checks, money orders and cashier's checks, can be deposited using merchant capture



Contemplating Merchant Capture?
Do you deposit checks daily? How many?




Does volume vary considerably, and what drives the variations?




What is the average value of your deposited items?




How much cash do you deposit daily?




What is your deadline to deposit?




How often do you miss your deadline?




How much money is held over for the next day's deposit?




Who prepares and delivers the deposits?




How long does it take from balancing to availability of cash?




What would these resources otherwise do?




How many deposit accounts do you maintain?




How many of your locations make deposits?




How far away is your paying bank?




Which bank serves as the concentration bank?




With how many banks do you deposit checks?




How and when are the deposits received?




What percent of your work requires photocopies?




How long after your deposit before you can write checks against the deposit?
As a corporate customer, you want low-cost, easy-to-use, results-focused solutions. Merchant Capture may be a solution that can be quickly and cost-effectively deployed for you.
What You Will Need:
Peoples Exchange Bank Merchant Capture is easy to set-up and use.  All you need are the following items:
PC with the most current version of our operating system




High Speed Internet connection




And of course, account(s) with Peoples Exchange Bank