ATM Deposit Automation
The fast, convenient way to deposit checks or cash.
Many Peoples Exchange Bank locations now have smart ATMs that accept either cash or check deposits - no envelope or deposit slip required!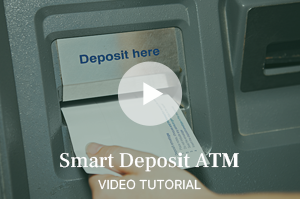 Frequently Asked Questions (FAQs)
What is ATM Deposit Automation?
With Deposit Automation you can make cash or check deposits at a Peoples Exchange Bank ATM machine 24 hours a day.  No deposit slips are required.

How does the ATM with automated deposit work?
Automated deposit ATMs accept cash and check deposits differently than traditional ATMs. Instead of using an envelope and entering the deposit amount on the keypad, you insert cash or checks into a slot on the machine. The ATM counts the items and totals the deposit, providing an image of each check or a list of bills deposited.

What do I need in order to use ATM Deposit Automation?
Any Peoples Exchange Bank customer with a debit card can initiate a deposit into their checking or savings account.

Is there a fee to use ATM Deposit Automation?
There is not a fee; this is a free service.

What types of accounts are eligible for ATM Deposit Automation?
You can deposit cash or checks into your Peoples Exchange Bank checking or savings accounts to which you have debit card access for ATM transactions.

Can I deposit checks and cash at the same time?
No. You must conduct two separate transactions. Choose 'check deposit' to deposit checks then 'cash deposit' to deposit cash.

Can I use an envelope for my deposits?
No. Insert cash and checks directly into the Envelope-Free ATM. ATM screen instructions will guide you through the deposit process.  *Note: Please make sure the checks are face up with the account number line on the right.

What types of checks can I deposit?
You can deposit checks payable in U.S. dollars drawn on any U.S. bank, including personal and business.

How should the check be endorsed?
The check should be endorsed as drawn.

Is there a limit on how much I can deposit using ATM Deposit Automation?
The check depositor can accept 10 checks at a time, and the cash depositor can accept 30 bills at a time. If you are depositing more than 30 bills or 10 checks, complete the first transaction and start a new transaction for the additional bills or checks.

Can I make deposits into a Peoples Exchange Bank account at another Institution's ATM machine?
No, you can only make deposits to a Peoples Exchange Bank account at a Peoples Exchange Bank ATM machine.

When will the funds from the deposit be available?
Cash deposits are available for use immediately. Check deposits made before 4:00 p.m. EST will be available the next business day. Please reference our Funds Availability Policy for detailed information.

How will I know the ATM machine received all the cash and/or checks I have deposited?
You will be provided with a receipt for the transaction. You will also have the option to receive a listing of the cash deposited, and a copy of each check deposited.

What should I do if I experience problems depositing?
If you experience difficulties, please visit your local Peoples Exchange Bank branch during business hours or call 800-364-3631.