CardValet®
Take Charge of your card with CardValet

®
Get control and convenience, from an app on your phone, for the cards in your wallet.  CardValet® helps you control your cards through your mobile device, making it easy to set alerts and manage your cards and how they are used, viewing your transactions, and staying informed.
Turn your Peoples Exchange Bank debit card on and off

Establish transaction controls for dollar amount limits, merchant categories and geographic locations

Receive alerts when your debit card is used, approved or exceeds the transaction controls set by you

Set spending limits for general use or specific thresholds
Set parental controls and monitor dependent cardholder's usage

Stay informed of potential fraud with alerts on attempted, declined transactions

Check real-time account balances and view recent transactions

And if you are a small business trying to limit employees expenses set your cards to be used to pick up supplies for the office, but not for personal purchases to ensure employee spending adherence to your company policies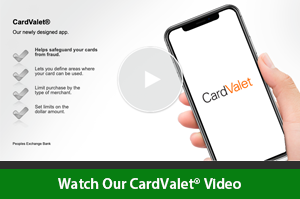 How to download the CardValet® App and get started right away:
Download the free CardValet® application from the Apple® app store or Google Play™
Open the app and select New User
Enter your 16-digit card number
Enter additional card details as requested
Validate your identity
Accept the Terms & Conditions as well as the Privacy Policy 
Create your User Name and Password
You are ready to log-in with your newly created credentials.
Select a card from the CardValet® home screen and you are ready to begin setting up your own personalized card controls.
If you need assistance with the app or have any questions, please call Peoples Exchange Bank Customer Service at (800)364-3631 or visit one of our convenient branches for assistance.