A new Peoples Exchange Bank debit card is coming soon!
In an effort to provide the very best in financial convenience Peoples Exchange Bank has sent existing cardholders a new Debit Card to replace their current debit card.  The new cards were mailed on August 31, 2020.  Please be sure to check your mailbox periodically if yours has not yet arrived.
The last day cardholders can use their old debit card will be September 13, 2020. Please activate your new card prior to September 14, 2020 to ensure uninterrupted service.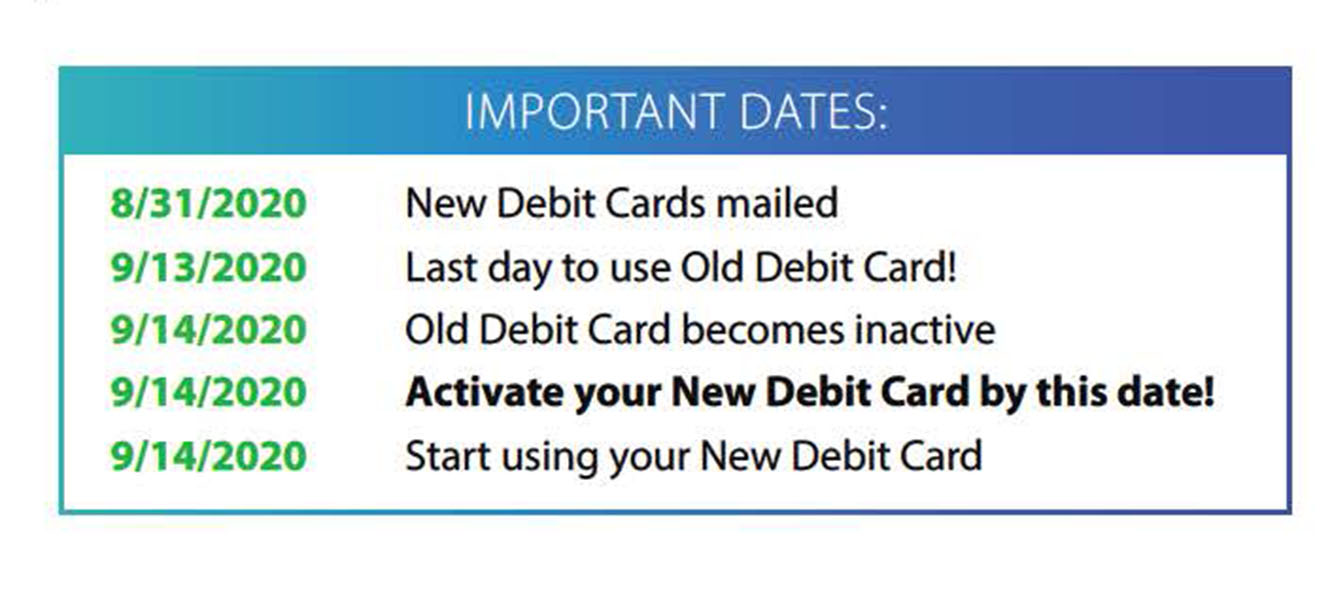 HAVE YOU ACTIVATED YOUR NEW DEBIT CARD YET?
KEY DETAILS
While all cards will be mailed on August 31, 2020, cardholders will not be able to start using the New Card until September 14, 2020.  Be sure to continue to carry and use your Old Card until this date.  It is highly recommended to carry both cards with you to ensure uninterrupted service during this time.
With the deadline fast approaching, now is the time to make sure your new card is activated.  Cardholders are able to activate and set their PIN for their New Card at any time.  They will not be able to make transactions using the New Card until September 14, 2020.
Activating and setting your PIN is easy.  Simply call the 1/800 number provided with your new card and follow the prompts to activate your card and set your new PIN.
WHAT IS CHANGING?  In order to keep all of our cardholders information protected, they will receive a new card with new graphics, expiration date and a new CVV (3-digit security code on the back of the card).
RECURRING PAYMENTS?  If a cardholder has currently set-up recurring payments with their existing debit card, they will need to contact those merchants to give them their new debit card information on September 14th.
DO WE HAVE YOUR CURRENT ADDRESS?
Please make sure we have your current address.  Contact us today at 800-364-3631 to update your records.  The New Debit Card will not be forwarded, so it is important for your to complete an address change form.  If you plan to be away from home or will not have access to your mail from the US Post Office during early September, please make sure to let us know.
QUESTIONS?
Stop in to one of our convenient
locations
or contact us at 800-364-3631.